My apologies for not having written many posts recently.  Having finished and published Wine Sense followed by a large trip to the US and immediately taking on some concentrated consulting work, my 'retirement' has been anything but!  But I have missed writing and especially writing about wine!
Living in the iconic Hunter Valley wine region two hours north of Sydney, we have a choice of about 150 wineries to visit.  From the 30 or so we have visited, we have six or seven we buy from regularly, while continuing to expand and purchase from others.  We have made the point to try a new winery or two every month.  One recent new entry was Keith Tulloch Wines on Hermitage Road.  What a great winery!  We were fortunate to have Keith Tulloch, owner and winemaker host our tasting for several hours and what a treat it was.  We bought several styles of Semillon and Shiraz and some Rose.  Their wines for the money are tremendous value.  And the facilities are amazing, including the Muse Cafe, one of the very few hatted regional NSW restaurants.  You could spend the entire day at Keith Tulloch Wines tasting, eating and just admiring the scenery.  And if you are fortunate to get a few minutes with Keith, he will provide you a real wine education!  I also love that it is a true family winery.  When we visited, Keith was working and his wife and son were working the cellar door.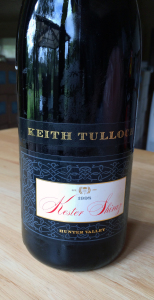 The wines I bought when there recently though will be a long time in the cellar; they are mostly ready to drink now, but I am certain all will improve a good deal given some time lying down.  Fortunately my father-in-law had a vintage Keith Tulloch wine, the very first vintage of the 1998 The Kester in his cellar which he gifted to me as a Christmas present.  I opened it this afternoon with great anticipation as I would any 15 year old Hunter Shiraz – and it did not disappoint!  This is a beautiful Hunter Shiraz and you can while you can feel the heat of 14.4% alcohol, it is delivered with a smooth velvety mouthfeel.  The fruit is powerful, and delivered with medium weight and texture.  I pick up plum and boysenberry flavors, plus good spicy overtures.  And the finish lasts a long, long time.  As good as this wine is, I might be dipping into the 2011 The Kester and The Doctor Shiraz sooner than I thought!
We are having this wine tonight with a New York Strip steak and chips with a side salad.  We tend to use a lot of spice when cooking steaks, so the 1998 Keith Tulloch The Kester Shiraz will be a great match!
Steve Shipley, author Wine Sense, available now!
© 2014.  Steve Shipley. All rights reserved.
SAZ in the Cellar on Facebook
Wine Pinterest Boards
Twitter:  Steve Shipley @shipleyaust;   InkIT Publishing @inkitpub