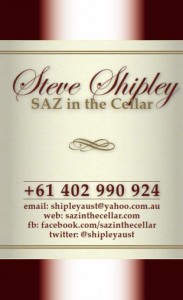 I am a wine enthusiast and writer without affiliation to commercial wine ventures or firms in the wine industry to ensure my opinions and points of view are strictly my own.
I have enjoyed wine increasingly over the last 20 years  and present many of my views and learning through this blog.  My upcoming book Wine Sense consolidates what I have learned about enjoying wine and enhancing wine drinking experiences which I look forward to passing onto you. SAZ in the Cellar is almost two years old now and we are quickly approaching 200 posts.  Both milestones will be celebrated in style!  My wine writing focuses on the following categories:
#SAZTIP (SAZ weekly tip on wine)
Buying & selling
Food wine pairing
Health
Learning & education
Lifestyle
Reviews
Storage
Wine writing and media
If you wish to receive email alerts when new posts are published, please click on the  'Subscribe' button on the right side of your screen.
You may also follow my writings and updates by going to my Facebook page and clicking on 'Like.'  Additionally, you can find me on Twitter at '@shipleyaust'
Wine Sense will be published by InkIT Publishing in Q2, 2014.  We are also developing an online Wine Appreciation training course to be delivered about mid-year, 2014.