The Wine Sense preorder campaign has started in earnest!  To secure your copy, just click here!  You will be provided an overview of the book, the plan to publish and the details of many great preorder packages and corporate patronage packages available, including:
Personal orders and personal and corporate sponsorships (all prices in US$)
Ebook for $10
Hardcopy copy for $25
Author signed hardcopy for $50
Patron author signed hardcopy sponsorship including Acknowledgment in book, and on websites for one year for $100 – $500
Great corporate team building and client entertainment events and sponsorships
All hardcover copy orders includes free Ebook version if ordered before April 15, 2014!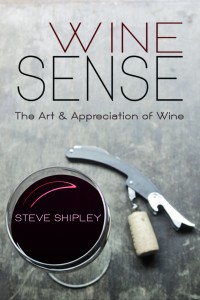 Sign up now at www.publishizer.com/wine-sense!
Wine Sense is approximately 300 pages, has 22 Chapters and is broken into four Parts:
Part One:  Wine and the Senses
Part Two:  How Wine Interacts with the Senses
Part Three:  Enhancing Your Wine Drinking Experiences
Part Four:  Where to Next?
Part 1: Wine and the Senses provides an overview and framework for understanding how wine interacts with the senses and why this can be pleasurable.  Part 2: How Wine Interacts with the Senses provides a thorough explanation of how wine interacts with each sense to heighten your wine drinking experience.  Part 3: Enhancing Your Wine Drinking Experiences offers a a simple approach and pragmatic tips to ensure your wine drinking is as enjoyable as it can be.  Then Part 4: Where to Next? points you in the direction of other resources and ideas on how to continue to deepen and mature your pleasure with wine.
Wine Sense will be published published in June/July, 2014.
Steve Shipley, author Wine Sense, out July 2014. Published by InkIT Publishing
© 2014.  Steve Shipley.  All rights reserved.
SAZ in the Cellar on Facebook
Wine Pinterest Boards
Twitter:  Steve Shipley @shipleyaust;   InkIT Publishing @inkitpub