I have had this bottle of Finca El Puig lying around for a while now.  I am not sure who I got it from, when or why.  I was not sure of the quality of this wine, even though my first impressions is that it is quite nice.  For being a decade old, the fruit is extremely lively, tasting of blackberry, boysenberry, other berries and plum.  It is well structured with heavy tannins which cause a pucker with the first mouthful.  The tannins are truly integrated, but strong.  What really surprised me was how long it took to decant.  I have never spent more time decanting any wine in my life and I have decanted several thousand bottles!  Yet, there is no obvious 'excess' sediment.  There was some sediment towards the end of the bottle while decanting, but this wine was slow to decant from the very beginning.  I am guessing this wine was never filtered.  It is thick and heavy – the alcohol content is 14.5%.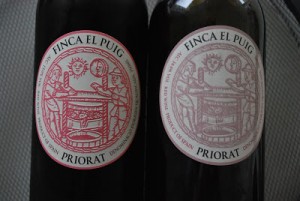 This 2002 Finca El Puig is very drinkable now, but I am wondering if I opened it too early.  It certainly has a lot of life yet.  It is a blend of Grenache, Carignan and Cabernet Sauvignon and the vines are from the Priorat region of Spain.  I was a bit worried that it may not line up well with the food we are having tonight which is leftover ravioli.  When we made the ravioli fresh over the weekend, we had a Chianti that suited ravioli perfectly.  I was a bit worried that the Grenache would be a bit gritty and overpowering for the food.  I think it will work and I will be certain of that within the hour.  But this is a big, big wine and would have gone really well with a Shepherds Pie, or a dense cut of beef.
I have never heard of the Carignan grape before.  In researching it (Wikipedia!), it appears to be a popular grape used in wines from the Rioja region and grown across the Mediterranean.  It is valued for its high yields (this has commercial benefits, but not sure it speaks well for quality).
Overall, it is a beautiful wine; heavy, but big and fruity.  I love the mouth feel sensation of a wine with heavy tannins, but this may be too much for some people.  I have not been able to find many tasting notes for this wine.  I did for the 2000 and the 2001 and for later vintages, but not the 2002.  Yet, the 2002 vintage seems to really stand out in terms of structure and longevity.  Very little seems to be known about this wine, at least this particular vintage.   Other vintages have sold for between $30 – $40, but the 2002 drinks better than that.  I am really enjoying this wine, even if I will need to sandblast my mouth out later this evening from the heavy tannins!  Just wish I knew who gave it to me so I can thank them!  Drinking this wine appears to be a single event not to be repeated.
Steve Shipley, author Wine Sense, out early 2014. Published by InkIT Publishing
© 2013.  Steve Shipley
SAZ in the Cellar on Facebook
Wine Pinterest Boards
Twitter:  Steve Shipley @shipleyaust;   InkIT Publishing @inkitpub