During the last month, I have written my assessment, mostly negative, about the newly launched Vino DeCanto wine preserver.  But through the benefits of social media (the founder and designer was alerted to my blog posts on the product) and the credit of the company, the founder reached out to me to try to really understand my experiences and how to improve them.  In fact, he spent two hours driving each way today to visit me and several more to review the experiences I have had with the product.  We used my Vino DeCanto, tested it and compared it to new newer models he brought with him.  I learned a lot about the process of making the Vino DeCanto, a number of the engineering and manufacturing challenges they have faced and what they are doing about them.  Most importantly, I learned a lot about the character of the company and how far they are willing to attend to, invest in, and address customer concerns to be able to deliver a high-quality product.
As I stated earlier, the product works and does an exceptional job preserving wine, even when I tried it on a fragile wine.  My concerns were more around the operational aspects of the Vino DeCanto, such as filling the glass, moving the container, cleaning the container, the drip factor and so on.  This product is still being worked on and improvements have been noted and in progress.  Five key ones I found out about today include:
using a different process to manufacture the glass container to provide far greater consistency in diameter and perfect circumference (by using an expensive mold instead of the previous glass tube cutting process).  Even slight variations created significant impact on the ease of dispensing wine with ease or difficulty dispensing wine and these variations will be greatly reduced, if not removed entirely
offering a stand to solidify and ease filling and dispensing wine
altering the size and weight of the sealing ball to better control pressure while dispensing wine and reducing drip lag time
slightly modified use of O-ring placement for better movement and wine preservation
different texturing of the material in some parts to improve wine preservation with minimal potential for defect
All five of these known improvements will significantly improve the use of the device and continue to improve wine durability.  I also learned about five tricks for more easily using and cleaning the device.  Vino DeCanto has now created a one-page Tips and Operational Guide where none existed before and also is in the process of making a YouTube video to show others these suggestions for easier use.  Looking back, it might be easy to say the company should have waited another six months to work through these improvements, but it has really been through the device's use in wine bars and through a few select early-on customers such as myself that they have been able to quickly identify and make the improvements necessary.  They were almost too close to the problems to identify them as being potential issues for others.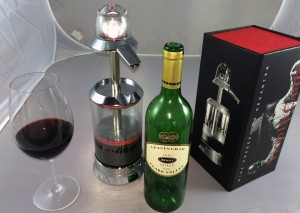 They replaced my earlier device with a newer one and also provided another new one to continue to test and help them work through ongoing areas for improvement.  We are going to put both devices through their paces over the next month and continue  help provide further suggestions on how to make the Vino DeCanto better. Tonight, I have poured a bottle of 1995 Leasingham Classic Clare Shiraz into the Vino DeCanto and dispensed a glass.  The new device I received today worked far better than my previous one in terms of the consistent dispensing of the wine and to just the amount I intended in the glass.  Now the wine will sit for a month to really test out how well it is preserved.  At least I have been able to verify one of my previous major operational issues was resolved.
The company reached out, in fact, went out of their way to listen to what I had to say, took my and other customer's suggestions on board and rectified the previous product by replacing it for me.  I learned a lot about the character and the passion behind the man who made this device and the company he is building and it is all good.  I am going to give this device another chance and continue to work with them to help make sure this is a quality product for those who need wine preservation, but are not interested or willing to go with the argon gas method.
Well done and thank you to Vino DeCanto for listening to your customers and persistently continuing to improve your product.
Steve Shipley, author Wine Sense, available now!
© 2014.  Steve Shipley. All rights reserved.
SAZ in the Cellar on Facebook
Wine Pinterest Boards
Twitter:  Steve Shipley @shipleyaust;   InkIT Publishing @inkitpub