My wife, DAZ in the Kitchen, is making a magnificent slow cooked beef with mushrooms and barley for this evening!  I have been smelling it cook for the last two hours and getting ravenous!  We will have a serve of Quinoa and a light salad as sides. With such a combinations of flavors going on, we thought a nice Bordeaux style blend would go really well with this meal.  I have had one bottle left of the 1992 Lindeman's Pyrus which I have been saving to enjoy with some friends, but we just have not been able to arrange a meal together (well, we did, but had a bottle of the 2001 Henscke Hill of Grace with that meal).  Fortunately for them, we still have two bottles of the 1992 Lindeman's Limestone Ridge which I am sure we will drink together.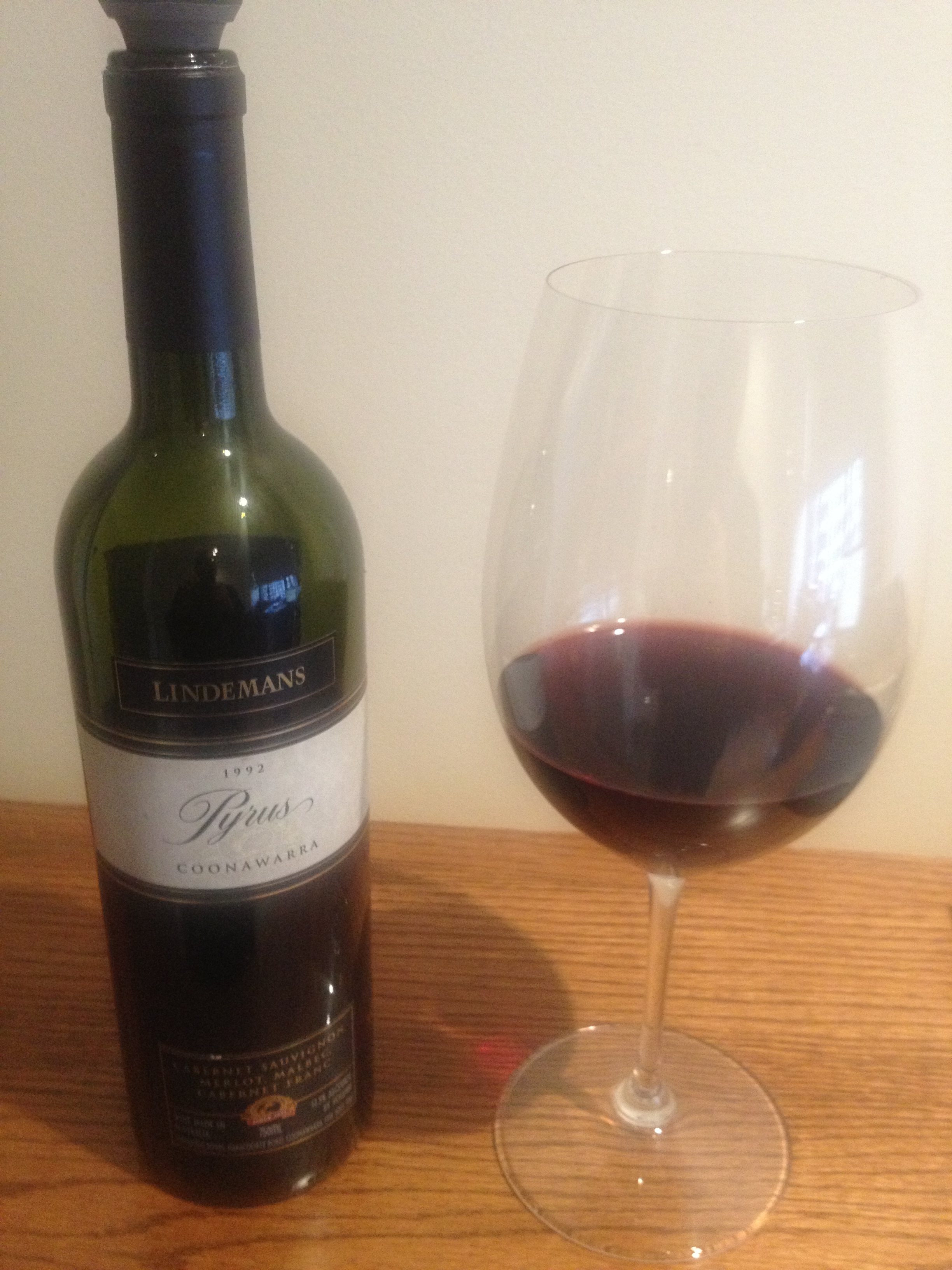 The '92 Pyrus is a blend of Cabernet Sauvignon, Merlot, Malbec and Cabernet Franc.  I love this blend as each flavor comes through.  I have written about this wine previously, when I pulled a bottle out and we had it with soup!  You can refer to that post to get a review of the wine.  As with that bottle, the cork was perfect on and the sample of wine I had while decanting indicates that this is a slightly fresher and fruitier bottle than the last one we tried.  It should be a perfect match for the dinner.  We once again will be serving this wine in the Riedel Vimun XL Grand Cru Bordeaux glass to get maximum enjoyment from the wine.  The only thing that beats a perfect food and wine match is the same thing, but serving the wine in a Riedel glass!  I discuss the benefits of using proper glassware and taste in my upcoming wine book at some length.  For a synopsis on why proper glassware is important, review my previous post on Riedel glassware.
This meal and wine will be special.  I am sorry we could no longer save our last bottle for dear friends, but we have more than enough 'last' bottles to share with them – more than we can find time to drink them all.  So it was with some regret, but more excitement that we opened our last bottle of the 1992 Lindeman's Pyrus to match our wonderful beef dinner this evening.
Now that Daz in the Kitchen has rebuilt her computer and is catching up from helping me with a number of technical and publishing issues, she should be able to get a post with the recipe out soon.  In fact, she just wrote the post with the recipe, and I am sharing with you here.
While you are unlikely to find a bottle of the 1992 Lindeman's Pyrus to go with this meal, any good Bordeaux blend or a blend such as the Rosemount Traditional should work just fine.  Just make sure it is a Cabernet Sauvignon and Merlot blend and optionally either Malbec or Cabernet Franc.  A Shiraz blend or a GSM (Grenache, Shiraz, Mouvedre) is likely to be too heavy.
Steve Shipley, author Wine Sense, out early 2014. Published by InkIT Publishing
© 2013.  Steve Shipley
SAZ in the Cellar on Facebook
Wine Pinterest Boards
Twitter:  Steve Shipley @shipleyaust;   InkIT Publishing @inkitpub