I have learned a great deal about wine over the last fifteen years and take my wine drinking seriously.  But from time to time, I make a stupid mistake.  In my upcoming book, Wine Sense(s), I discuss the importance of rinsing glassware thoroughly so as to not leave any food odors or soap films on the glasses or decanters.  Unfortunately, I did just that and poured a $200 bottle of wine into a decanter which I did not realize had a leftover soap film from the last time I cleaned it!  Ugh!  What a waste and what to do?
I was leaving the wine to decant, then poured a glass for me to have.  I returned the rest of the wine into its original bottle and stoppered it to keep it fresh for the rest of tonight and tomorrow.  It was not until I was rinsing out (without any soap) the decanter that I realized it had a soap film from the last time I cleaned it.  Such a shame and such a waste.  I went to give the decanter a good rinse with plain hot water and all of a sudden, I was pouring out soap bubbles!  There was not much soap, but it did have a number of bubbles and I had to give it a really good rinse to get it clean.  Unfortunately by then, the damage had been done.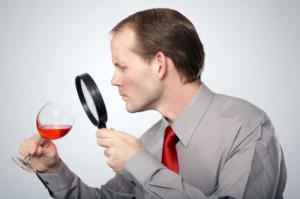 The brick purple color was dulled slightly from the soap and it appeared to have just a touch of grey to it.  More importantly, I could taste that the wine was a bit off, even though the underlying flavors were still evident and huge.  Still since I am having it with a spicy, hot red Thai beef curry, I am going to drink this wine (or some of it).  And I feel I need to do that as penance for my mistake and to cement the lesson learned.  I want to never, ever make this mistake again!  It is still an excellent wine, if not a bit soapy.  Interestingly enough, the tactile sensation via  mouth feel is the same or possibly even slightly enhanced by the soap!  But the aftertaste and finish is not what it should be.
I continue to learn and want to pass those learnings onto others.  More and more in talking to the people at Riedel and others, I have heard them tell us that (1) do not clean glasses with soap between courses of a meal; there is nothing better than alcohol (from the previous glass of wine) for cleaning your glasses followed by a rinse of water, and (2) glasses and decanters are dishwater safe.  I am now going to follow their advice.  I have been washing all of my glasses and decanters by hand and also using too much soap.  From now on, I will look to clean them with no or very little soap and then rinse them or use an alcohol spray to disinfect and clean them (this is what most restaurants do), and for larger gatherings, will now use the dishwasher to clean and THOROUGHLY rinse my glasses and decanters.
I made a large mistake this evening and hope to never repeat it.  Feeling bad as SAZ in the Cellar!
Steve Shipley, author Wine Sense, out early 2014. Published by InkIT Publishing
© 2013.  Steve Shipley
SAZ in the Cellar on Facebook
Wine Pinterest Boards
Twitter:  Steve Shipley @shipleyaust;   InkIT Publishing @inkitpub