I write a lot of reviews about Hunter Valley Shiraz (and Semillons) for two reasons:  (1) I drink a lot of them, and (2) they are bloody good, and therefore worth reviewing!  I had pulled out a few bottles to decide between for tonight's drinking and was going to choose between a 2007 De Iuliis Reserve Shiraz and a 2007 McWilliams Mount Pleasant Maurice O'Shea (both excellent wines!) before spotting a single bottle of the 2001 Blueberry Hill Shiraz.  Blueberry Hill is lesser known than some of the more iconic Hunter Valley wineries, but a pleasant spot with some good undulating vineyards.  They make one of the better Pinot Noirs in the Hunter Valley and a nice Merlot.  They also have one of the most beautiful wine labels around!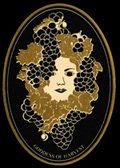 So I decided to open the 2001 Blueberry Hill Shiraz and it did not disappoint!  (If you have ever had a 2007 McWilliams Mount Pleasant Maurice O'Shea or a 2007 De Iuliis Reserve Shiraz, you will know how much of a compliment this is!)  This is a very nice wine.  It is slightly sweeter than other Shiraz, and with lively fruit.  The spices are more savory than peppery, with a mixture of saffron and cinnamon.  BTW, do not take literally the allegory to saffron and cinnamon, but I am limited in my ability to define multiple savory and sweet spices, so you are stuck with that description!  The wine is very smooth, almost velvety with an elegant mouthfeel, like a fine Old World style blend, but lacks the complexities that a blend would provide.  It is light and refined, with a nice alcohol level of 12.5%  I find that level easier and more pleasant to drink than the Shiraz in the 14% – 15% range.  This wine is twelve years old and the fruit is alive, almost tangy on my lips and has a long finish.  The 2001 will not last another decade, but should be good for at least another three to five years.  We will have this wine tonight with a quinoa and vegetable salad and it should work very well.  A heavier Shiraz would not.
I get a lot of requests from friends who are going through the Hunter Valley as to what wineries to visit and they are always looking for a new winery or a boutique winery instead of the big players.  Blueberry Hill certainly fits that bill.  Check them out next time you are through the Hunter Valley.
Steve Shipley, author Wine Sense, out early 2014. Published by InkIT Publishing
© 2013.  Steve Shipley
SAZ in the Cellar on Facebook
Wine Pinterest Boards
Twitter:  Steve Shipley @shipleyaust;   InkIT Publishing @inkitpub