Last week I put up the rules to win one of two $100 bottles of wine.  Today, we will take the covers off and tell you what wine it is!  This wine cannot be sourced anywhere anymore as it is of premium stock and they are sold out at the cellar door.  There may be one or two bottles floating around in private collections, but I believe that I hold the remaining stock of several dozen bottles.  That alone makes this wine unique and somewhat special, but only if it is good wine and good wine it is!  Coming from the 2005 vintage and being a Hunter Valley Shiraz, you know this wine has to potential to be excellent.  Langtons' rated this vintage an 8 out of 10 for Hunter Valley Shiraz.  While not the very best year, certainly an excellent year.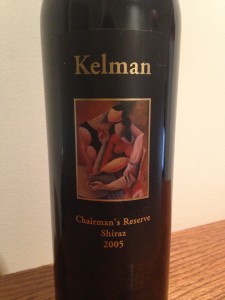 The wine for the give-away is the 2005 Kelman Chairman's Reserve Shiraz.  Kelman is a cooperative vineyard in Pokolbin, at the corner of Marrowbone Road and Oakey Creek Road, just across from Saddler's Creek in the Lower Hunter Valley.  They grow their own grapes and the Shiraz vines are about 15 years old now.  They have only made two vintages of the Chairman's Reserve Shiraz, first in 2003 and then again in 2005.  These two vintages reserved (hence the name!) the very best Shiraz grapes for these Reserve wines.  Halliday rated the 2003 Kelman Chairman's Reserve Shiraz as excellent and scored it 93/100.  He did not rate the 2005, but I can attest that it is the better wine.  I know because I have drank both the 2003 and 2005 Kelman Chairman's Reserve Shiraz side-by-side a few years back and had a bottle of the 2005 Kelman Chairman's Reserve Shiraz just a few days ago.  This is a big wine with live, juicy fruit and plum and blackberry flavors.  It is an earthy wine, with smells and texture of leather, yet beautifully balanced with moderate tannins which are well integrated.  It also has a touch of oak and a very long finish.  While you can tell it is a Hunter Valley Shiraz, its style is similar to a big Barossa Valley Shiraz.
After having this wine a few days ago, I wondered why I was giving such a great bottle away!  But I wanted to make the give-away special and not just any good bottle you could pick up in a bottle shop or buy at auction.  This is a wonderful wine, suitable for drinking today, but it will continue to improve and last into the early 2020s.  If you win one of the two bottles, your most difficult choice will be to drink it right away or set it down for a while!
Remember to 'Like' SAZ in the Cellar on Facebook, or to 'SUBSCRIBE TO BLOG VIA EMAIL' for this blog to have a chance to win.  We will ship a bottle for each winner anywhere in the world and that includes our cost of shipping!  So easy and such a great bottle of wine which is available for you to win.  If you need further explanation or want to review the rules for entering (such as being of legal age to drink wine!), you can review my previous post on the matter.  Enter now and win!
Steve Shipley, author Wine Sense, out early 2014. Published by InkIT Publishing
© 2013.  Steve Shipley
SAZ in the Cellar on Facebook
Wine Pinterest Boards
Twitter:  Steve Shipley @shipleyaust;   InkIT Publishing @inkitpub