Through tasting more and learning more about tasting wine, I have continued to improve my wine tasting abilities and experiences.  Yet, I was always surprised how many of my chef friends seemed to have a better palate than mine.  I assumed it was because they were super tasters (people with significantly more taste buds and lower sensitivity to certain tastes) than me.  I attributed their skills to their in-born capabilities.  My wife was taking cooking lessons several years ago and I was highly supportive because I was benefiting from eating better at home.  We ate better, more healthily and far less expensively now at home than when eating out (except for a few known restaurants that are among our favorites).
I decided to follow my wife's lead and took about 10 cooking lessons myself, including a 6-part beginners course for 'blokes,' a knife skills lesson, a pasta making lesson, and a Christmas dinner banquet lesson (including ham and turkey).  But it was really practicing making meals from beginning to end at home that opened my nose and palate to being able to smell and taste many more flavors and with greater sensitivity.  What became apparent to me was importance of sauces, spices, and all the ingredients necessary to alter or enhance the flavors of the primary ingredients be they meat, fish or vegetables.  Noticing what a teaspoon of paprika (or smoked paprika), saffron, chili flakes (or freshly cut chilies) or nutmeg could do to enhance flavors became noticeable.  Understanding why chopped basil worked better than mint or parsley (or Spanish onions better than spring onions) in certain circumstances also became apparent.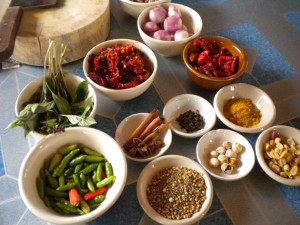 By learning to understand and appreciate various flavors, I was able to more immediately determine when to drink a softer, more versatile wine such as a Verdelho over a Pinot Gris (or vice versus) with the meal, or a sharper, edgier wine such as a Riesling or Sauvignon Blanc worked better.  What I really noticed though was that instead of being able to match up broad categories of wines with food, I was now able to much more easily 'micro-match' a wine style with a particular meal.  I was able to determine which  sub-category (young or aged Semillon, for example) and sub-style (Hunter Valley versus Barossa Valley Shiraz) and determine which wine more uniquely was a better match with food, even to the level of individual wine makers (a young Andrew Thomas Semillon versus a Tyrrell's Johnno Semillon) and vintages.
Most people believe they are limited in their ability to taste and appreciate good wine (and often as a result, buy wine based on price, thinking a higher price is better quality), but this is simply not true.  There are rare exceptions of people who were born or through a severe illness, have lost the ability to smell.   However, for the most part and within usable tolerances, almost every one of us is able to with a high degree of accuracy be able to smell and taste wine.  Through practice and learning, any one of us can influence our abilities to taste and enjoy wine more so than through our natural abilities.  And by learning some basics of cooking and what ingredients are used to make meals, you can learn much more quickly.
"Learning to cook has improved my ability to taste wine more than any other activity over the last several years!"
My book Wine Sense helps you understand how to train and use all of your senses to improve your wine tasting experiences.  But on its own, learning to cook (even a little as in my case) has greatly improved my ability to smell and taste.  I am able to much more quickly identify flavors and nuances and determine why I like one wine over another with a particular meal, whereas before I would have thought they tasted pretty much the same.  Do not limit your ability to enjoy wine far more than you currently do, and make learning to cook an important part of that training.
Steve Shipley, author Wine Sense, out early 2014. Published by InkIT Publishing
© 2013.  Steve Shipley
SAZ in the Cellar on Facebook
Wine Pinterest Boards
Twitter:  Steve Shipley @shipleyaust;   InkIT Publishing @inkitpub