I love reading about wine family history for several reasons: the first is the inspiration I get from understanding how families sacrificed to survive and in spite of their financial troubles, they never gave up on the pursuit of making better and better wine, regardless of the cost or the hardships; the second is the intrigue and suspense on seeing if the next generation will embrace and participate in the family business.  My first entree into reading about first families of wine was Mondovino by Jonathan Nossiter, who wrote about the European first families of wine and some of the difficulties they had passing the legacy from generation to generation.  This was followed by reading The Rewards of Patience by Andrew Caillard which retells the history of Penfolds, and then by reading the great biography of Maurice O'Shea in Wine Hunter by Campbell Mattinson.  And now I am reading heart & soul: Australian's First Families of Wine by Graeme Lofts.  All of these books are thrilling and inspirational as they talk about wine and the business of wine.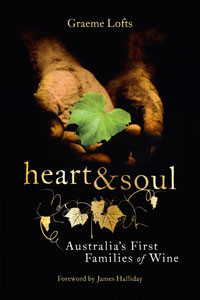 I have used the terms 'first families of wine' a bit loosely so far in that Penfolds can no longer be considered a family-run business as they sold out to the large corporate and are now part of TWE (Treasury Wine Estates).  In Loft's book, heart & soul, he describes 12 Australian family-owned wineries, which have had at least 20 vintages, ownership of vineyards for more than 50 years of the highest quality, and at least two and preferably three generations of family owning the business. These 12 wineries are truly Australia's First Families of Wine (AFFW).  This was an initiative launched in 2009 and represent a great glimpse into the best in wine and wine history that Australia has to offer.
While these stories and each family is unique, they have similarities in the most important areas to regarding making the very best wines possible.  By reading heart & soul and the other books mentioned above, I have come to believe, in general, that family-owned wineries make better wines than corporate-owned wineries.  Of course you will be able identify some great wines made in corporate-owned wineries, but I am more and more inclined to drink wine from Australia's first families of wine if given the choice.  Loft's book makes this abundantly clear, and here are the reasons why:
Australia's first families of wine care more about making the very best wine possible than about being a commercial success; they never cut corners to get a better-valued commercial outcome – it is all about making the finest wine possible
Each new generation is given the opportunity to work elsewhere, learn from the best other first families of wine around the world and bring that back home
Each new generation starts early in learning winemaking and this cumulatively increases the knowledge and capabilities of the family-owned winemaking and wine marketing teams to do a better job than the large corporate-owned wineries are able to do
They have all faced crisis and hardships often across generations, yet have survived and done what was required to survive
They continue to experiment, exchange ideas with others, and help the wine industry as a whole, contributing and benefiting more than corporate-owned wineries
Australia's first families of wine have achieved commercial success as a by-product of producing the best wines available, no matter what the cost.  They do not try to optimize short-term profit if it will get in the way of producing the best wine possible.  If you want to be inspired about how to run a business, any business, there are a lot of lessons to be learned from heart & soul and the other books mentioned.  If you want insights into the passion, the pursuit of quality, literally the 'heart & soul' of what goes into making and appreciating a good wine, then you should pick up a copy of heart & soul and get reading!
Steve Shipley, author Wine Sense, available now!
© 2015.  Steve Shipley. All rights reserved.
SAZ in the Cellar on Facebook
Wine Pinterest Boards
Twitter:  Steve Shipley @shipleyaust;   InkIT Publishing @inkitpub