There are many good bottles of wine to be had for $15.  My book Wine Sense focuses on how to 'buy wine' instead of 'being sold wine.'  Once you know how to taste and have the confidence you know what you like, you can get some great values.  Over the years, I spend about double what I should have on wine until I learned to believe in my own palate.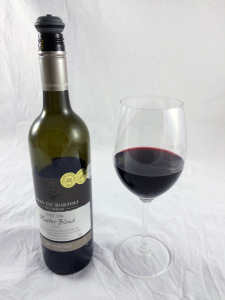 One of the best $15 bottles I have had in a long time is the 2010 De Bertoli Deen Master Blend Vat 184.  It is a blend of Pinot Verdot, Shiraz and Durif.  It has a great mouthfeel, well textured and almost too easy to swallow!  It is 13.5% alcohol and lays nicely on the palate.  It has great fruit flavors with tastes of chocolate and mocha.  It is a wonderful wine to drink on its own or with food.  It would work well with game, roast chicken, some pastas, and tonight we are having it with pizza.  This wine has been awarded two Gold medals and one Silver medal, so I am not the only one who really likes this wine!
With some exceptions over the years, De Bertoli does not make great wines (they are best known for their stickie dessert wine, Noble One), but they do consistently make great value wines.  And they have blended the best features of three varietals into a very nice wine, the Vat 184.
De Bertoli is also one of the select members of Australia's First Families of Wine, and continue to make wine as a multi-generational family.  When writing this post, I was not able to connect to their website, but it is 'http://www.debortoli.com.au/.'
Try the Vat 184 – I expect you will enjoy it greatly and find it to be very good value!
Steve Shipley, author Wine Sense, available now!
© 2014.  Steve Shipley. All rights reserved.
SAZ in the Cellar on Facebook
Wine Pinterest Boards
Twitter:  Steve Shipley @shipleyaust;   InkIT Publishing @inkitpub