We had a fun day visiting our first ever winery in Minnesota; a great little gem of a place in Cannon Falls called Cannon River Winery.  I must admit that I was hesitant as to what we would find of wine in Minnesota, but it was a pleasent surprise.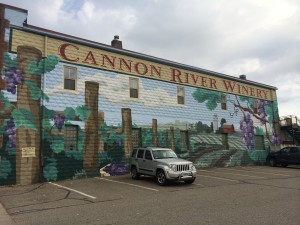 I will be writing a series of posts on the wine industry in Minnesota.  Cannon River Winery is owned by friends of my parents and (I) having just written a wine book, my parents wanted me to visit their friend's winery.  Cannon River Winery is only about a 40 minute drive out of the Twin Cities, mostly south on US 52.  Cannon Falls is a quaint small Midwestern town with a lot of character and the winery and cellar door right in the heart of the city with the vineyards being outside.
We learned a great deal today about the challenges of making wine in Minnesoata.  It would appear Minnesota would be similar to a lot of cold wine growing regions, but it is not.  I always knew that the Twin Cities had the highest variation of temperature from coldest to warmest seasonally, but I also found out that the daily variations can be extremely large.  Therefore, they needed to craft grapes that could deal with the local climate and both extreme hot and cold temperatures.  There is a vitaculture unit associated with the University of Minnesota that has been working for the last 30 years to create cross-bred varietals to deal with the extreme temperature fluctuations.  Therefore, there exist a number of unique grape varietals specific to the region and growers need to be approved by a state industry association.  These local grapes all start with the 'MN' designation.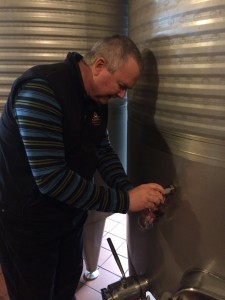 The Minnesota winemakers need to be gifted blending several varietals into a pleasent drinking wine to provide the right balance and integration of flavors and textures.  This is no easy feat when trying to use only local grapes!  Sometimes using a bit of Shiraz or some other grape from another region can be the final piece in the puzzle to making a drinkable wine.
We tried about 15 different wines, including dry and sweet reds and whites, dessert wines and an apple wine and honey wine, and ended up buying four bottles to take along and share with our friends over the next few days.  The winemaker also spent an hour with us tasting the wines direct from the vats containing the recently harvested grapes.  These wines are still cloudy since they are unfiltered, but showed great promise and will be better than last year's vintage.  Some of the wines were still on skins.
So there is a Minnesota Meritage which is a blend of several different grapes and quite different from Hermitage or Australian Shiraz; however, it is a very drinkable blend with a slightly sweeter taste.
I was not expecting much from Minnesota wines, but was positively surprised and going to try some more.  While not on par with the best Europe, Napa or Australia has to offer, they are very drinkable and at very reasonable prices.  If you want a great day out from the Twin Cities, you should definitely try Cannon River Winery!
I need to do some further research, but will be discussing the Minnesota varietals and the history of Minnesota wine making in the next several posts.
Steve Shipley, author Wine Sense, available now!
© 2014. Steve Shipley. All rights reserved.