The vineyard where we live is known for making decent, but not great wines.  However, over the years, they have won a few medals and produced some exceptional wines.  I was taken by surprise today tasting the 2013 Kelman Cate's Paddock Chardonnay.  It is magnificent for such a young wine.  Tangerine and rock melon flavors, orange citrus flavoring, nutty and honey also.  But most impressively, this wine has body!  It has medium-plus body and structure and smooth, yet full texture which fills the mouth and finishes long.
The Cate's Paddock line is meant to be the second tier of Kelman wines, but with some of the best 2013 Chardonnay grapes and the way it has been structured, this wine should be getting some top prizes.  It will not last long at the cellar door at the price.  If you are coming through the Hunter Valley, you need to stop by Kelman Estate and definitely buy some of this wine.  After tasting it today, I picked up a dozen on the spot and will be getting another dozen to cellar for a few years – it is an outstanding buy.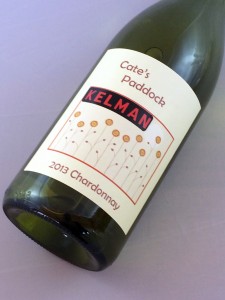 As it is getting into winter, we are having our first winter soup for dinner this evening.  My wife is making one of my favorites, which is wild rice and mushroom soup.  As rich and creamy as the soup is, we usually have a Montrachet to go with it, or a Penfolds Yatarnna.  However, this evening we are drinking the 2013 Kelman Cate's Paddock Chardonnay at a fraction of the cost of a Montrachet!  This is a fine, fine wine and will be sold out soon, so make sure to stop by and get some while supplies last.  And if you do, let me know so we can share a glass together!
Steve Shipley, author Wine Sense, due out July 2014. Published by InkIT Publishing
© 2014.  Steve Shipley.  All rights reserved.
SAZ in the Cellar on Facebook
Wine Pinterest Boards
Twitter:  Steve Shipley @shipleyaust;   InkIT Publishing @inkitpub