Several weeks ago, we had a great dinner with two other couples.  We started with salmon mousse tarts and a choice of a Hunter Valley Semillon or a New Zealand Sauvignon Blanc.  Even though we knew it was going to be a scorcher of a day, everyone wanted DAZ in the Kitchen's famous beef stroganoff which we paired with a 2009 Bouchard Pere & Fils Pulingy-Montrachet.  We wanted to have creme brulee for dessert, but did not have a torch available, so decided to go with chocolate mousse instead.  (The recipe for all courses is provided in the obvious links.)
I had a number of good sticky dessert wines, including some very nice Sauternes to go with creme brulee, but was uncertain as to what dessert wine would work well with chocolate mousse.  After some internal debate including considering Port or Muscat, I felt a peppery Hunter Valley Shiraz could work, so put aside a 2007 Tyrrell's Stevens Shiraz.  This is a typical high-end Hunter Valley Shiraz from a great vintage.  However, through the generosity of our guests and them offering to help determine what dessert wine to drink with chocolate mousse, we had a bottle of Ivanhoe Madeira and Audrey Wilkinson Muscat to choose from.  I also had a bottle of 1993 Lindeman's Porphyry leftover from the evening before (notice the small cork bits in the bottle from the shattered 20-year-old cork).  So we decided to try all three dessert wines and the main lesson learned is that sweet wine and sweet food match quite well, regardless of other characteristics involved!  All three wines provided unique, but pleasurable drinking experiences while eating chocolate mousse.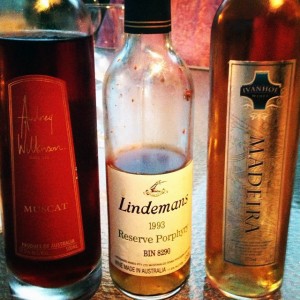 The Porphyry was sweet, almost too sugary due to its age and worked better as a dessert wine with the apple tart we had the night before.  Yet, it provided a viscous mouthfeel that felt good with chocolate mousse and set off well the strawberries adorning the chocolate mousse.  The Madeira was sweeter yet, but sharper in taste and complimented, almost competed with the chocolate mousse.  The Muscat (which was one of my original alternatives to consider as the dessert wine) probably worked the best as it less sweet, containing caramelized orange flavors to compliment the chocolate flavors of the mousse.
But the key lesson learned was that almost any dessert wine worked!  Looking back, I wish I would have also pulled out a few different Ports wines as I think they could have worked as well as the Muscat or even better.
What wines have you served with chocolate mousse?  Let me know if you have any good suggestions.
Steve Shipley, author Wine Sense, out early 2014. Published by InkIT Publishing
© 2014.  Steve Shipley.  All rights reserved.
SAZ in the Cellar on Facebook
Wine Pinterest Boards
Twitter:  Steve Shipley @shipleyaust;   InkIT Publishing @inkitpub