I have been anxious to return and have a meal to order at Paymasters Cafe in Newcastle, NSW.  We had a specially prepared Christmas in July meal there about six months ago which was outstanding and the wines provided by McLeish Estate winery.  But I wanted to explore a broader set of options from the menu and wine list.  And I am glad we did; I am not sure I have had a better meal anywhere!  The entire experience was done to perfection.  First of all, we were in a refurbished historic building overlooking the waterfront, the front windows opened wide, and we had a table with a magnificent view and perfect weather.  This was all a real plus and set the scene, but we came for the food and wine and were not to be disappointed.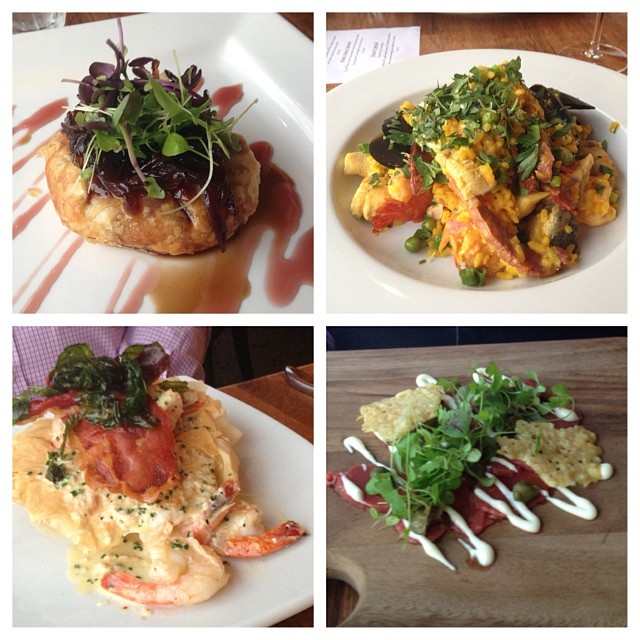 We always look for things we would not be cooking at home and there were a few entrees and mains to choose from which satisfied that requirement.  We started with the best bruschetta I have ever had and DAZ in the Kitchen had Baked Camembert Cheese for an entree and a robust Spanish Style Paella for the main.  I had the Beef Carpaccio for an entree and Garlic Prawns in pastry for the main.  We shared a most magnificent Golden Rough Lindt Chocolate Pudding for dessert.  Everything was cooked to perfection and served at just the right time and temperature.
But this is a wine blog, so let's talk about the wine!  Let me start by say this: "This is the best-valued wine list I have seen seen that fits on one page!"  Paymasters Cafe wine list has been extremely well thought out and reflects the effort Executive Chef Rodney Scales puts into ensuring the dining experience is without peer.  Most wines were priced between $30 – $45 per bottle, with a few exceptional wines being just under $100 per bottle.  Having bought some of those wines direct from the wineries, I also know that the markup on the wines is very reasonable.  There are many easier ways to build a wine list, but you can discern the effort Rodney has put in to create such an outstanding wine list.  You can easily have a larger list to cover your basis, but that comes with a high capital and operating cost and lower turnover of inventory.  You can buy more iconic brand name wines but are paying more and then have to pass the cost onto the customer.  Rodney has worked hard to find a great variety of Australian wines from NSW, VIC, and SA plus some outstanding wines from New Zealand.
Rodney has worked to perfection a wine list that matches the food he prepares and the taste of the Australian customer.  He knows and can describe every wine on the list and every food dish it pairs with well.  And his food menu has a recommended wine for each dish if you do not want to try to decide which wine goes best with any dish.  And most wines can be bought by the glass.  I had to drive an hour home so did not want to commit to an entire bottle.  Yet, I had ample choice of excellent wines by the glass to match the food we were eating.  I have been to restaurants with 100's of bottles of wine on the list that only offer less than ten wines by the glass.  Paymasters Cafe offered 33 out of the 52 wines on the wine list by the glass!
I noticed in July and again last night that Rodney is a chef who works the front room as well as any chef I have met.  He ensures each customer's satisfaction and is there to watch over their experience.  This compares to many good chefs I know who cannot seem to leave the kitchen, either because they have not built a good team behind them or they believe it is more important to pay attention to the food (and be their own judge of if the food is OK) than how their customers are reacting to it.  I have had some great chef friends who will never make it big because they cannot escape the kitchen.  Rodney spends far more time in the front room than in the back and it shows in the dining experience.
And the best part came at the end when I went to pay for dinner.  The price of the meal was only 50% – 60% of what I expected to pay and have paid at other comparable restaurants.  Great food and great wine at a great price point!  Paymasters Cafe – without peer!
Steve Shipley, author Wine Sense, out early 2014. Published by InkIT Publishing
© 2013.  Steve Shipley
SAZ in the Cellar on Facebook
Wine Pinterest Boards
Twitter:  Steve Shipley @shipleyaust;   InkIT Publishing @inkitpub