Is Penfolds Grange worth the money?  I certainly asked that question back in 1997 when I bought my first Grange, the newly released 1992 vintage at $200 per bottle.  I was drinking some fine Coonawarra Cabernet Sauvignon and Hunter Valley Shiraz for less than one-tenth that price.  Of a total of 4,000 bottles in my cellar at peak, I never had more than eight bottles of Penfolds Grange.  I only have one bottle of 1981 Grange left.
The question 'is Grange worth it?,' certainly depends on who you are and why you are drinking it.  As I have become more comfortable with drinking quality instead of drinking brand – a concept I explore in Wine Sense – I find a lot of alternatives to Grange which are far better value.  Another concept I discuss in Wine Sense is the first two things I really picked up on many years ago when starting to drink better wines: I could identify (1) good balance and (2) good mouthfeel.  Mouthfeel is what happens when wine is in your mouth and felt (not tasted via your taste buds) by your palate.  It is often most noticeable as tannins affix themselves to the inside of your cheeks.  It is also felt through the weight of the wine (due to alcohol level and how the wine has been processed) and if the wine sits comfortably in your mouth or not.
It has been two-and-a-half years since I drank my last Grange until last week.  It was the 1971 vintage which is the best Grange I have tasted.  It was a special treat as the birth-year wine for my wife's 40th birthday.  This wine is featured in 1001 Wines You Must Try Before You Die by Neil Beckett. The 1971 Grange had great fruit and spice flavors, perfect balance, nuances of oak, fig and dates manifested with each swirl around your mouth, and it had great, great mouthfeel.  Given the quality of the wine and event, this Grange was well worth it!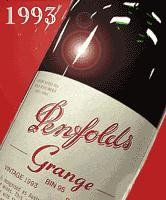 A week ago, we had another Grange, this time the 1993.  While it was consumed as part of a standard weekend luncheon among friends, it is a bottle I gave to my friends when they were married several years ago and they insisted on waiting to drink it together with us.  We found that opportunity last week, celebrating the birth of their new son and also reuniting with some mutual friends we had not seen for a dozen years.
The 1993 Grange is not considered one of best Grange, yet it is still an outstanding wine as every Grange is regardless of vintage.  Penfolds always sources the very best grapes they can find, maintaining as much control over the quality of the grapes as they can in any given year, and year-in, year-out, Grange is made with a style that is identifiable.  I was a little worried that the 1993 Grange may be at the end or beyond its best drinking life, but the cork was in perfect condition and the wine excellent.  We decanted it for several hours to be served with a Persian beef fillet for the main course.  We had a nice Italian Chianti on arrival followed by a 2009 Hugel Alsace Riesling to go with eggplant and tomatoes and then a 2009 McLeish Reserve Chardonnay to go with chicken.  Then out came the beef and the Grange!
The wine opened beautifully and came to life during two hours in the decanter.  I had been sniffing the Grange to make sure it still had robust flavors and was ready to drink.  It had strong plum and blackcurrant flavors and that opulent Grange style.  On taking my first mouthful, it was the unique mouthfeel a Penfolds Grange provides that really struck me;  full and expansive, yet not over-the-top.  The wine and my mouth fused in perfect harmony.  The wine did not need to be paired with beef as it was paired with my tongue and cheeks perfectly!  My upcoming book Wine Sense discusses how our senses are used to appreciate and enjoy wine.  We use all of our senses from our sight to smell and taste, but also feeling and even hearing wine.  Our perception of taste is cross-modal and one of the wonderful things about tasting wine is how our senses of smell, taste and feeling come together to provide such a sensually fulfilling experience.  With Grange, you can really feel the wine.  By reputation and weight, Grange possesses strength and firmness when holding a glass of it.  But it is in your mouth that Grange shows it worth.  It may seem strange to talk about 'feeling' a wine, but you do feel Grange while drinking it.  It demands being held longer in your mouth than other wines to enjoy the feeling it provides.  It also demands being swallowed in several small swallows with each mouthful to make your mouth and throat muscles work, enhancing the feeling further.  If there is a wine that is enjoyed by being felt, it is Grange.
Steve Shipley, author Wine Sense, out early 2014. Published by InkIT Publishing
© 2013.  Steve Shipley
SAZ in the Cellar on Facebook
Wine Pinterest Boards
Twitter:  Steve Shipley @shipleyaust;   InkIT Publishing @inkitpub