I am constantly asked for opinions concerning the Hunter Valley.  I feel comfortable offering advice as we have a place up there, frequent it a lot, and will retire there; 60 percent of the wine I drink is from the Hunter Valley.  I get asked often to recommend off-beaten wineries from local friends and any advice on how to spend a few enjoyable days for those visiting the area.  These requests are occurring more frequently, so I thought I would take the time to record and share the information with, regardless if you ask or not!
This will be a four-part series as follows:
Places to stay in Hunter Valley
Places to eat in Hunter Valley
Hunter Valley events and activities
Recognize that these recommendations represent my opinion and may not be suitable for everyone.  Also know that I do not have any commercial relationship with these places nor have I asked their input or permission prior to writing these posts.  This series represents the opinions I have been sharing privately with friends, and I am now making them public.  I am certain there are great wineries, restaurants and places to stay that I will not be mentioning.  But in the end, I can only write what I know.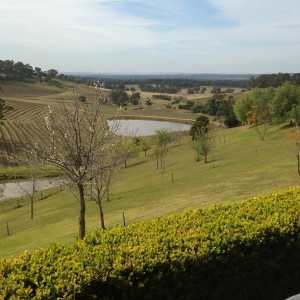 Overview of Hunter Valley wine region:
The Hunter Valley is two hours north of Sydney, Australia by car.  It was one of the first areas in which vines were planted in Australia.  James Busby, acclaimed father of the Australian wines industry, brought vine stock from France and Spain and planted them in the 1820s in the Hunter Valley.  The Hunter Valley produces only about 2% of Australian wines, but is internationally known for their excellent Shiraz and Semillon wines.  Few regions around the world grow these grapes better than they do in the Hunter Valley.  The Hunter also produce many excellent Chardonnay wines.  The Hunter Valley houses three (McWilliams, Tyrrell's, and DeBertoli) of the twelve First Families of Wine, which are multi-generational privately held wineries.  This is testament to how seriously the Hunter Valley takes its wine and ensuring they continue to focus on quality.
You can find out more and keep up to date with upcoming events by following the Hunter Valley Wine Industry Association.
Since a trip to the Hunter Valley features wine above all, the next post will be on some of my favorite Hunter Valley wineries.  Stay tuned!
Steve Shipley, author Wine Sense, out early 2014. Published by InkIT Publishing
© 2013.  Steve Shipley
SAZ in the Cellar on Facebook
Wine Pinterest Boards
Twitter:  Steve Shipley @shipleyaust;   InkIT Publishing @inkitpub