Vintec, the wine storage company, displayed this recipe on Facebook and I thought I would share it since I took the time to translate the recipe from Spanish to English (OK, Google Translator helped a little bit!).  I was going to write another post on why you need to build a cellar, but that will wait another day now.  I have two Vintec wine storage lockers and they are great.  But again that will be the focus of another post.  For now, I am going to explore making red wine ice cream.  I have not tried this yet, but will give it a go next weekend when we are in the Hunter Valley for a long weekend and let you know the results.  If any of you try it before I do, please write to tell me how it turned out.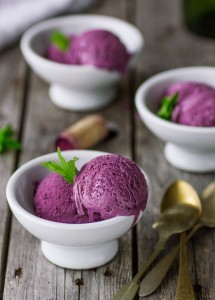 The recipe calls for:
A bottle of red wine
150g sugar
4 egg yolks
250ml cream
300ml whole milk
cinnamon stick
This is not actually a recipe so much as just an ingredient list!  I am sure you could substitute a half-teaspoon cinnamon powder for the stick.  And if you want to make it a bit creamier and smoother texture, use six egg yolks instead of only four.  Then just whip it up in a blender and put into a container to freeze.  I am guessing a more elegant, finer red wine works better than heavier, coarser red wine.  I would use a Pinot Noir or a Zinfandel.  And a full bottle seems to be quite a bit, so you may want to use half a bottle first, then taste, and determine if you need to add more.
Based on the quality of the wine, this could be a pretty expensive dessert.  But it does look delicious and we will give it a try!  Once I know more and can recommend more, I will write an update about our experience making it and how it tasted.  Please let me know if you try it first!
Steve Shipley, author Wine Sense, out early 2014. Published by InkIT Publishing
© 2013.  Steve Shipley
SAZ in the Cellar on Facebook
Wine Pinterest Boards
Twitter:  Steve Shipley @shipleyaust;   InkIT Publishing @inkitpub