It may be a bit of a stretch to say any restaurant is without peer, but Paymasters Cafe would be close, and I did like the play on words!  We had a most delightful Christmas in July meal there recently and the food was outstanding.  Rodney Scales is the head chef.  What I really like about Rodney (in addition to being a great chef) is his passion, his absolute need and personal attention to make sure his customers are having a great time, and his sociability.  Rodney likes to engage with his customers and is also very active on social media.  Rodney took the time to show us his kitchen, his dining rooms, and even the surrounding area, while explaining the Newcastle history behind the building that ultimately become Paymasters Cafe.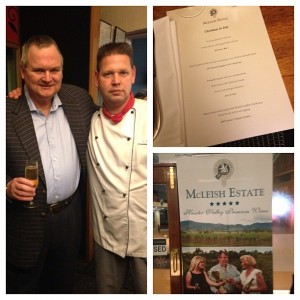 We had four great meals in July around the Hunter Valley and surrounding cities such as Newcastle and Singleton.  It would be a toss-up as to which one was the best.  Our Christmas in July meal at Paymasters Cafe would have been number one or two along with the meal we had at Two Naughty Chooks considering the food, the ambiance, and the overall experience.  I felt though that the food at Paymasters Cafe was the most approachable though in terms of a good family outing.  I identified with the food and style of cooking and want to go back again and again.
Our Christmas in July meal was special.  We started with several 'beyond' canapes including the Tourtiere Quebecois Meat Pie and the Gravalax Salmon with Toasted Saffron Brioche.  These were complimented by the McLeish 2012 Dwyer Rose which was a great match.  The entree was a Brined Pork Loin with Molasses Mustard Glaze, Sour Mash Sce and Apple Butter matched by the 2013 McLeish Semillon and McLeish 2011 Chardonnay.  We then had a main meal assortment which included Pineapple Chipotle and Coca Cola Glazed Ham, Roast Turkey with Cranberry Sauce, and Braised Red Cabbage with Bacon.  The mains were served with a 2011 McLeish Tri Moir.  Dessert was Baked Walnut Stuffed Apple with McLeish Semillon Chardonnay and Polish Bowtie Fritters and Eggnog, served with the 2009 McLeish Jessica Botrytis Semillon.
The food was outstanding and I admire the adventurousness that Rodney and Jessica had in matching up the wines with the food.  They bucked traditional match-ups, but the pairings worked very, very well.  The meal was international with the recipes representing Europe and the Americas.  What I really enjoyed though was how approachable the food and wine were.  Neither required any thinking – they were just enjoyed.  As my wife, DAZ in the Kitchen says, "you know it is good food and wine when it goes down before you even think about it."  And that was the case this evening.
Rodney Scales, like a few other chefs I greatly admire, is passionate about his food, his service and his experience.  He started cooking early in life and worked his way up through a variety of different experiences gaining expertise and knowledge.  Some of his opportunities required that he drive or train two hours each way, just for the pleasure of cooking for us!    But for the last decade, he has been at Paymasters Cafe, having built a great reputation.  Next time we are in Newcastle, we will be eating at Paymasters Cafe again, enjoying the great food and learning more from Rodney.  If you get Newcastle way, you need to try this place and make it a regular experience.   We certainly plan on it!
Steve Shipley, author Wine Sense, out early 2014. Published by InkIT Publishing
© 2013.  Steve Shipley
SAZ in the Cellar on Facebook
Wine Pinterest Boards
Twitter:  Steve Shipley @shipleyaust;   InkIT Publishing @inkitpub