Yes, in general and in my opinion!  Let's find out why I believe that.
I dislike the idea of fusion concepts, especially when it comes to food.  Call me a traditionalist, but I find food that has stood the test of centuries, yet alone millenniums, to be among the very best food one can eat.  I love Italian food and I love Indian food, but I do not favor blending the two into a single meal.  Curry pastas just don't work for me.  I love Japanese and I love Tex-Mex, but I could not bring myself to even try this fusion concept in one of the hotel restaurants in Sacramento, CA when visiting a while back.  The raw tuna quesadillas just did not work for me.  Globalization has done a lot to change the world, but when it comes to fusion food, it has only made it worse!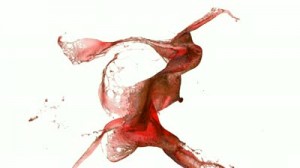 But when it comes to wine blends, I am really starting to favor blends over 100% varietals.  Don't get me wrong – I LOVE my 100% varietals when it comes to my favorite grapes such as Shiraz, Cabernet Sauvignon, or Riesling.  But year-in, year-out, it is impossible to get consistent sugar and alcohol levels,  with each vintage being affected by that year's heat index and rainfall causing some vintages to be different in taste than others vintages.  That is when a good winemaker can use some of the characteristics of other grapes to provide a better overall taste, by adding a touch of sweetness, or subduing too much sweetness by adding a grape with more acidity or sourness.  Good winemakers know how to blend a little bit of another grape or several grapes together to make good to great wines.  Even Penfolds Grange over the years has had various amounts of Cabernet Sauvignon blended in to achieve its maximum potential for a particular vintage.  Based on what country the wine is from and the local laws, you may still label a bottle of wine by its main varietal as long as the amount of the other grape added is still small, usually less than 15%.
But other wines, especially old world wines have been crafted to be great wines by using various blending combinations.  Wines from Châteauneuf-du-Pape are predominantly Grenache, but also are allowed to blend in wine from twelve other varietals.  Bordeaux blends are primarily Cabernet Sauvignon, but contain a variety of other grapes such as Cabernet Franc, Merlot, and possibly small amounts of Petit Verdot or Malbec.  A classic high-quality Bordeaux blend is 70% Cabernet Sauvignon, 15% Merlot, and 15% Cabernet Franc.  Australia is well-known and respected for its Shiraz and Cabernet Sauvignon blends such as you would find in a Penfolds Bin 389 or a Lindemans Limestone Ridge.  And more and more, I am loving a wine blend called GSM of Grenache, Shiraz, Mourvedre.  And for white wine, I find the blend of Gewürztraminer and Riesling to be a very nice drink.
More and more, I am enjoying my blends and the craftmanship of the winemaker to get the blends to get the most of of the grapes.  The nuances that can develop and the integration of various characteristics provide for a most enjoyable drinking experience.  Maybe I am just become more old-world myself, but I find blends age better, are more complex and more balanced, and generally are a bit softer with a smoother mouth feel.
If you have not tried many blends, then I think it is about time you do!  And I would appreciate your views and feedback on if you are a single-grape purist or prefer the multidimensional characteristics of a blend.
Steve Shipley, author Wine Sense, out early 2014. Published by InkIT Publishing
© 2013.  Steve Shipley
SAZ in the Cellar on Facebook
Wine Pinterest Boards
Twitter:  Steve Shipley @shipleyaust;   InkIT Publishing @inkitpub